Origin The name of Bat Trang pottery village
Bat Trang name is formed from the Le Dynasty, is the integration between 5 famous ceramic families of Bo Bat village of Thanh and Nguyen family in Minh Trang land. Five large families including the Tran, Vuong, Nguyen, Le and Pham families met and decided to bring some artisans, potters and their descendants to the village to migrate to Thang Long citadel to find a land to settle down. They stopped at the 72 white mound in Minh Trang village. Today Bat Trang Pottery village specializes in producing ceramics with many different functions from: household appliances, worshiping items, fine-art ceramic products ... The lineages still retain the quality inherited by their ancestors. back and bring its own characteristic and subtlety. Ceramics products have also been known from near and far, exported to many places in the world.
Visiting Bat Trang communal house:
The communal house is located right next to the river wharf (Red River), where visitors to Bat Trang along the river route will stop here and walk into the village. From the market you ask for directions to Dinh Lang people will show you.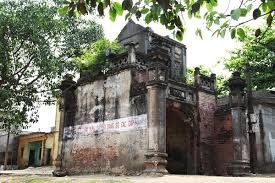 Play Modeling pottery:
Stepping down the bus along the walkway, you will easily come across houses filled with ceramics. If you are hard to explore, you will buy more beautiful and unique items than pottery in the market at a cheaper price. What attracts when coming to Bat Trang Pottery Village is that you will be Play clay pottery. There are quite a few families offering this service. This is how you play and learn how and how to make Pottery. The way to play is quite simple: the host gives you a big piece of land, a bit of moisture, gives you a turntable, then you place the land between the turntable and delight to shape the land.
Factory tour
Making products by your self
Most of you are going to make cups, make bowls, make everyday necessities. If you are smart, you can shape the animals. After molding, you move to dry the product, takes about 30 minutes, during this time you can go out or have lunch. Next, you come to the drawing, decorating process for the product. And finally the worker will paint the outside to keep the product more durable over time.
From 
khoingosecurity
Ho Chi Minh City