HOT! Bowls, plates, trays. High-grade green flame glaze Specialized for restaurants and 5-star hotels Gia Oanh authentic bat Trang ceramics
HOT! Bowls, plates, trays. High-grade green flame glaze Specialized for restaurants and 5-star hotels Gia Oanh authentic bat Trang ceramics
Our food needs are increasing day by day, each of us not only eats well enough but also aims to eat well and enjoy the food. With a line of high-class flaming blue enamel, golden contours, clear lines, thick glaze, very beautiful, luxurious and shiny fired through 2 times of fire, high-class fire glaze dishes are fired. at a very high temperature of 1300 degrees Celsius, very sure, when knocking, it is very safe in the microwave, dishwasher. Because the product is thick, baked at high temperature, it is very strong, so when used for restaurants and hotels, it is not only luxurious but it is also less prone to chipping, less damaged, After a while, it will still be shiny. like new, not scratched or yellowed like ordinary low-flame ceramics, that's why hotels and restaurants always choose high-quality fire-glazed ceramic products. The hotel restaurant's bowls and plates are made meticulously and meticulously step by step by famous potters in the Bat Trang ceramics village, with modern technologies and machines to produce quality products. The best quality and most beautiful products reach consumers at Gia Hoanh Ceramic Factory, which specializes in providing fire glaze lines for domestic and foreign restaurants, hotels, and hotels that have been trusted by domestic and foreign partners. With a variety of models and a wide range of products for customers to choose from, from products for buffet, hot pot, alacart, and sushi, we can satisfy them all. From plates, bowls, noodle bowls, salad bowls, fish trays, decorative trays... Products round, flat plates with sizes 19cm, 22cm, 25cm, deep plates 22cm, 26cm, trays rectangular, square tray 20cm, 25cm, oval plate, rice bowl, noodle bowl, salad bowl with many different sizes, Our workshop has many suitable enamel colors for choice according to feng shui and selection. choose according to your space, luxury enamel line suitable for flaming green enamel, cozy enamel line suitable for brocade glaze, winged glaze, vegetarian space suitable for moss glaze, art space suitable for tricolor tableware, art enamel set. restaurant above luxury co men dubai…. Coming to Gia Giao authentic bat page ceramics factory, you will receive free advice, attentive service by people with many years of experience in the hotel restaurant industry. Not only that, you can go to the factory to see the production process and see product samples, Gia Oanh Authentic Ceramic Factory bat page - 168 Giang Cao, Bat Trang, Gia Lam, Hanoi, DT 0964800919 Fire enamel ceramic workshop high-end authentic authentic bat page specializes in providing food products for restaurants, 5-star hotels and restaurants #bowl_plates #dining bowls, #plates; salad bowl #round_plate, #flat_plate, Rectangular_plate #food_tray #meal tray #oval_plate HOT! Bowls, plates, trays. Specializing in high-grade green fire glaze
HOT! Bowls, plates, trays. High-grade green flame glaze Specialized for restaurants and 5-star hotels Gia Oanh authentic bat Trang ceramics
Our food needs are increasing day by day, each of us not only eats well enough but also aims to eat well and enjoy the food.
Premium blue enamel bowl
With a line of high-class flaming blue enamel, golden contours, clear lines, thick glaze, very beautiful, luxurious and shiny fired through 2 times of fire, high-class fire glaze dishes are fired. at a very high temperature of 1300 degrees Celsius, very sure, when knocking, it is very safe in the microwave, dishwasher. Because the product is thick, baked at high temperature, it is very strong, so when used for restaurants and hotels, it is not only luxurious but it is also less prone to chipping, less damaged, After a while, it will still be shiny. like new, not scratched or yellowed like ordinary low-flame ceramics, that's why hotels and restaurants always choose high-quality fire-glazed ceramic products.
Premium blue enamel plate
The hotel restaurant's bowls and plates are made meticulously and meticulously step by step by famous potters in the Bat Trang ceramics village, with modern technologies and machines to produce quality products.
Premium blue enamel bowl eat salad
The best quality and most beautiful products reach consumers at Gia Hoanh Ceramic Factory, which specializes in providing fire glaze lines for domestic and foreign restaurants, hotels, and hotels that have been trusted by domestic and foreign partners.
Premium blue enamel plate
With a variety of models and a wide range of products for customers to choose from, from products for buffet, hot pot, alacart, and sushi, we can satisfy them all. From plates, bowls, noodle bowls, salad bowls, fish trays, decorative trays... Products round, flat plates with sizes 19cm, 22cm, 25cm, deep plates 22cm, 26cm, trays rectangular, square tray 20cm, 25cm, oval plate, rice bowl, noodle bowl, salad bowl with many different sizes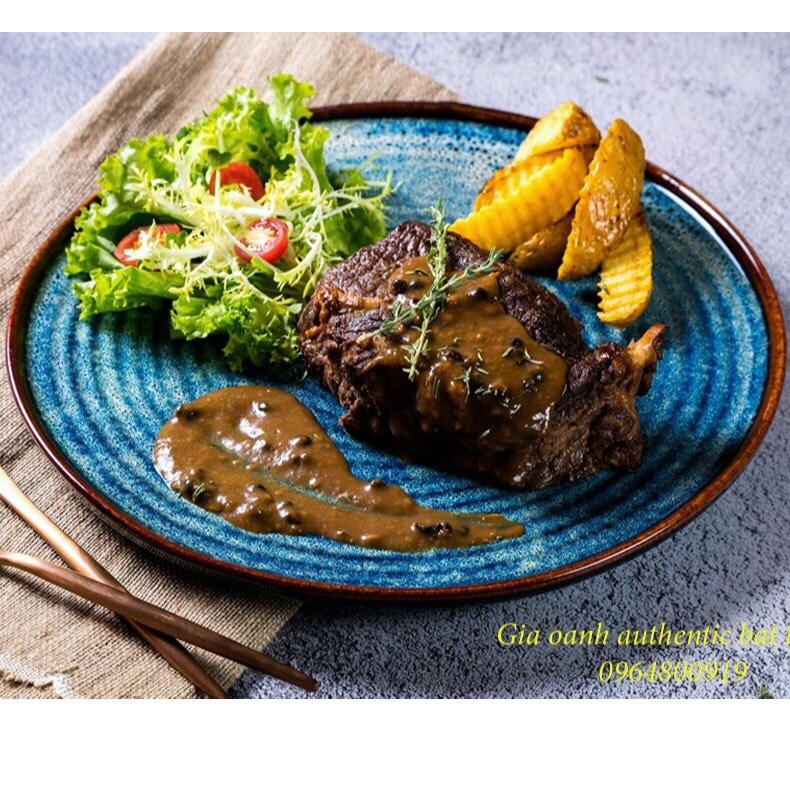 Premium blue enamel plate
Our workshop has many suitable enamel colors for choice according to feng shui and selection. choose according to your space, luxury enamel line suitable for flaming green enamel, cozy enamel line suitable for brocade glaze, winged glaze, vegetarian space suitable for moss glaze, art space suitable for tricolor tableware, art enamel set. restaurant above luxury co men dubai….
Premium blue enamel plate
Coming to Gia Giao authentic bat page ceramics factory, you will receive free advice, attentive service by people with many years of experience in the hotel restaurant industry. Not only that, you can go to the factory to see the production process and see product samples, Gia Oanh Authentic Ceramic Factory bat page - 168 Giang Cao, Bat Trang, Gia Lam, Hanoi, DT 0964800919
Premium blue enamel plate
Fire enamel ceramic workshop high-end authentic authentic bat page specializes in providing food products for restaurants, 5-star hotels and restaurants #bowl_plates #dining bowls, #plates; salad bowl #round_plate, #flat_plate, Rectangular_plate #food_tray #meal tray #oval_plate HOT! Bowls, plates, trays. Specializing in high-grade green fire glaze