HOT - Coffee filter set with hand-painted - Authentic Bat Trang ceramic workshop
Hand-painted ceramic coffee filter with cup
Origin: Bat Trang - Vietnam
Cup capacity: 300ml
Products are meticulously and elaborately made by famous craftsmen in Bat Trang pottery village, refining each product from each union from the moment of making the goods, to the preliminary firing and firing of the finished product, which is a characteristic of ceramics. Vietnamese bowls of porcelain
Flammable enamel is produced when the furnace temperature fluctuates. When the furnace temperature changes, the glaze layer on the product is born, the potter does not interfere in the shaping of these glazes. With this feature, each product will have a completely different enamel texture, no two products are the same. Varying glaze requires the technique of firing, creating the correct color, ensuring that the product when released from the oven has a harmonious color, ensuring the unique, special and different product for the product. Enamel juice out of the oven must still be shiny, smooth and luxurious, high-class. The product line of fire glaze is always ranked as the most advanced line in the pottery village. Thanks to this uniqueness, variable enamel products often appear in high-class and luxurious spaces.
Feel free to contact us if you need any more information
Authentic Bat page
0964800919
#ceramics#Bat_Trang#phin_coffee#filter
Hand-painted ceramic coffee filter with cup
Origin: Bat Trang - Vietnam
Cup capacity: 300ml
Coffee filter set with hand-painted 
Products are meticulously and elaborately made by famous craftsmen in Bat Trang pottery village, refining each product from each union from the moment of making the goods, to the preliminary firing and firing of the finished product, which is a characteristic of ceramics. Vietnamese bowls of porcelain
Coffee filter set with hand-painted 

Flammable enamel is produced when the furnace temperature fluctuates. When the furnace temperature changes, the glaze layer on the product is born, the potter does not interfere in the shaping of these glazes. With this feature, each product will have a completely different enamel texture, no two products are the same.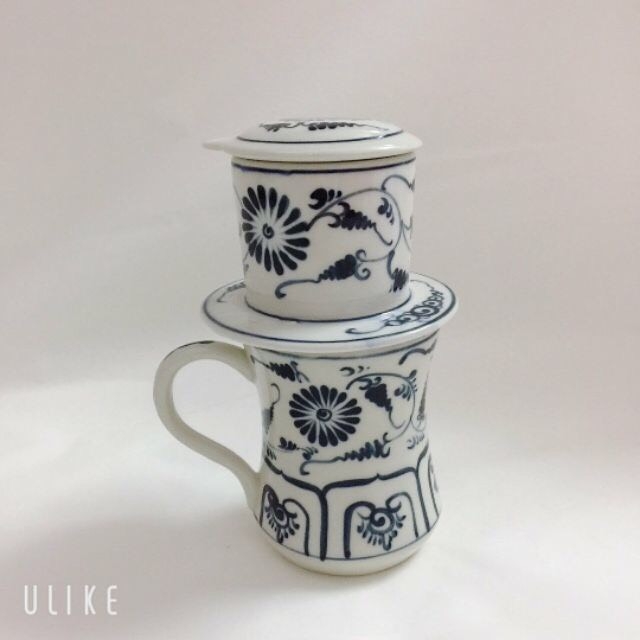 Coffee filter set with hand-painted 
Varying glaze requires the technique of firing, creating the correct color, ensuring that the product when released from the oven has a harmonious color, ensuring the unique, special and different product for the product. Enamel juice out of the oven must still be shiny, smooth and luxurious, high-class. The product line of fire glaze is always ranked as the most advanced line in the pottery village. Thanks to this uniqueness, variable enamel products often appear in high-class and luxurious spaces.
Coffee filter set with hand-painted 

Feel free to contact us if you need any more information
Authentic Bat page
0964800919
#ceramics#Bat_Trang#phin_coffee#filter